Get Connected Now
The West Michigan Veterans Coalition has partnered with the leading employers, service organizations, and education institutes in West Michigan to provide a comprehensive list of resources for Military-connected individuals and their families.
FIND LOCAL SERVICES
I am a Military Connected Veteran or Family Member
READY TO HELP?
I am a West Michigan Organization ready to help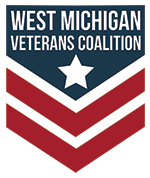 The West Michigan Veterans Coalition is a collaboration between local military friendly organizations that provide support, information, and resources to those that have served or are serving in the Armed Forces and their Families, employers, and other organizations throughout West Michigan.
Your generous tax-deductible donation provides funds to host employment events, education opportunities, trainings and resource fairs for Military-Connected individuals, Families, employers, and representatives of area organizations. Your donation also allows us to fund two scholarship programs.